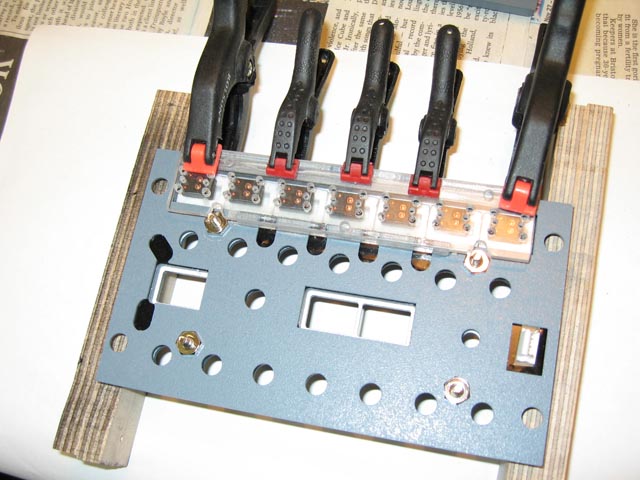 The height of the switch mountings above the backplate has to be very accurate; if it is too high the switches come out of the recess in the buttons and the buttons get misaligned. If it is too low the switch action is wrong. I found that I needed to pack the switch 0.175" above the backplates. I made accurate packing strips, super-glued these to the switch mountings, cleaned the paint off the backplates and super-glued the assemblies in place. Once the IBL is separated from the backplate the buttons and switches can be removed for wiring later.
The next major issue was the potentiometers (15 of them). There is not enough room to fit them in the panels. In the sim they are no needed anyway as the software does not have the functions. One or two might come in handy however. If the potentiometers cannot be used there is the issue of mounting the knobs which will be needed for "eye-candy".
My final solution was to dismantle the pots where there was insufficient clearance to fit the full unit. This still left the spindles rotating smoothly and they can be firmly mounted to the panel for the fitting of the knobs. It seemed a bit brutal hacking up the pots but it is probably the best solution. I was able to fit four complete pots so they can be used if required later.
A very tight fit!